International Women in Engineering Day 2019: WMFTG partners with Goonhilly Earth Station
Inspiring the next generation of female engineers
One of the South West's biggest technology companies, Falmouth-based Watson-Marlow Fluid Technology Group (WMFTG) – part of Spirax-Sarco Engineering plc - will celebrate International Women in Engineering Day (INWED) in partnership with Goonhilly Earth Station.
INWED (June 23rd, 2019) is an annual global initiative to celebrate and raise the profile of female engineers within the industry, driven by the Women's Engineering Society (http://www.inwed.org.uk/).
This year, to mark the day (June 21st, 2019), WMFTG is inviting 62 local primary school children (ages 10 to 11) to Goonhilly Earth Station where they will be involved in two interactive STEM (Science Technology Engineering Mathematics) activities and a site tour of Goonhilly. One of the activities will include students using WMFTG's pumps to dose the right amount of 'rocket fuel' that will be used to propel a 3D model space shuttle.
Commenting on the aims and objectives for the day, Rachel Pallett, Sales Director for Europe, Middle East and Africa at Watson-Marlow Fluid Technology Group says it is vital that we inspire the next generation:
"International Women in Engineering Day presents an important opportunity to rebalance diversity in the workplace; and this must start with inspiring younger generations. As women only make up around 12% of the UK's engineering and technology workforce*, companies like ours must do all we can to promote engineering and STEM roles as exciting, inclusive, and rewarding careers. There are incredible opportunities out there for female engineering and technology professionals; the sky is the limit."
A networking event has also been organized which will be attended by local council representatives, teachers, WMFTG employees and STEM enthusiasts.
Positive role models
The event's organisers promise an impressive line-up of inspirational figures – each of whom will talk about their career history, their roles in industry and how they think we can transform the future.
Expected to be a very popular speaker is Melissa Thorpe Msc, Head of Business Engagement and Outreach for Spaceport Cornwall. Melissa has been involved in this ambitious project to deliver safe and low-cost access to space by 2020 since its inception in 2014. A key aspect of the Spaceport Cornwall project is to inspire a generation of young people to take up STEM subjects.
Also confirmed to deliver a keynote speech is Lucy Edge: Chief Operating Officer of the Satellite Applications Catapult. Lucy is responsible for supporting enterprises across the UK in understanding and exploiting the potential of space and satellites to create opportunities and transform businesses. With a background in Physics and Engineering, Lucy's career to date has involved the launch of satellites that provide communications for much of Europe, the Middle East and Africa and building a satellite operations centre in West Cornwall that operates a fleet of communications satellites.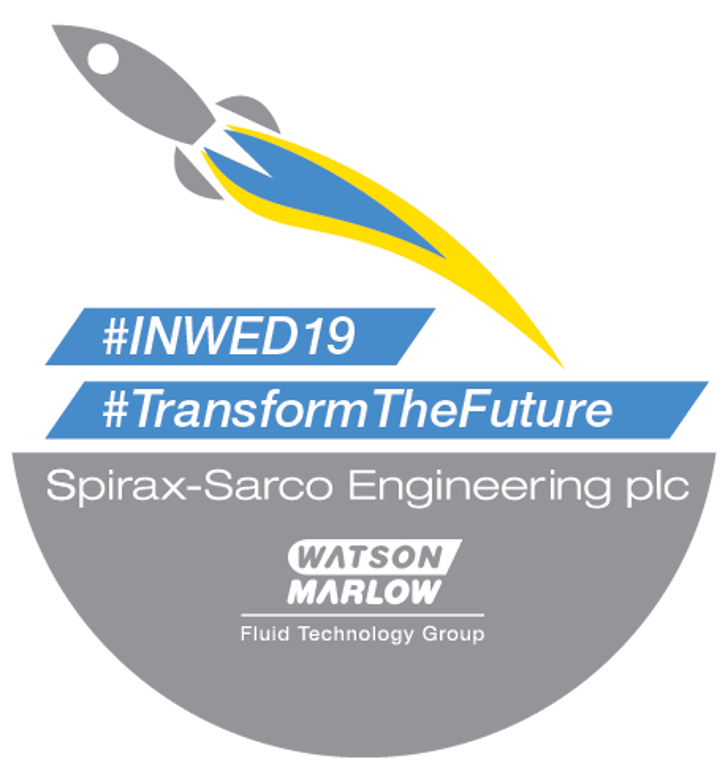 Giving young attendees a flavor of life in manufacturing is WMFTG's own Dr. Sade Mokuolu; Group Product Compliance Manager at the company. Sade will share stories from her own impressive professional journey. She holds a Bachelors of science degree in Chemistry from University of Sussex and a doctorate in Organometallic Chemistry from University of Nottingham.
Also offering her perspective is Jane Kingston, who for many years served as Group Human Resources Director for Compass Group PLC. Jane has worked in a variety of sectors, including roles with Blue Circle Industries plc, Enodis plc and Coats Viyella plc and has significant international experience.
Finally, Trudy Schoolenberg will also address the audience. Trudy has served in high-profile senior management roles at AkzoNobel, Wärtsilä Oy, Royal Dutch Shell plc and Shell Chemicals.
Wider engagement
Watson-Marlow Fluid Technology Group is a major employer in the South West of England. Twice awarded a Queen's Award for Enterprise: International Trade 2017 and Innovation 2018. The company also runs an apprenticeship programme as well as an active community engagement scheme that aims to introduce technology careers to young people.