Pumps - panel mount pumps
300 series panel mount pumps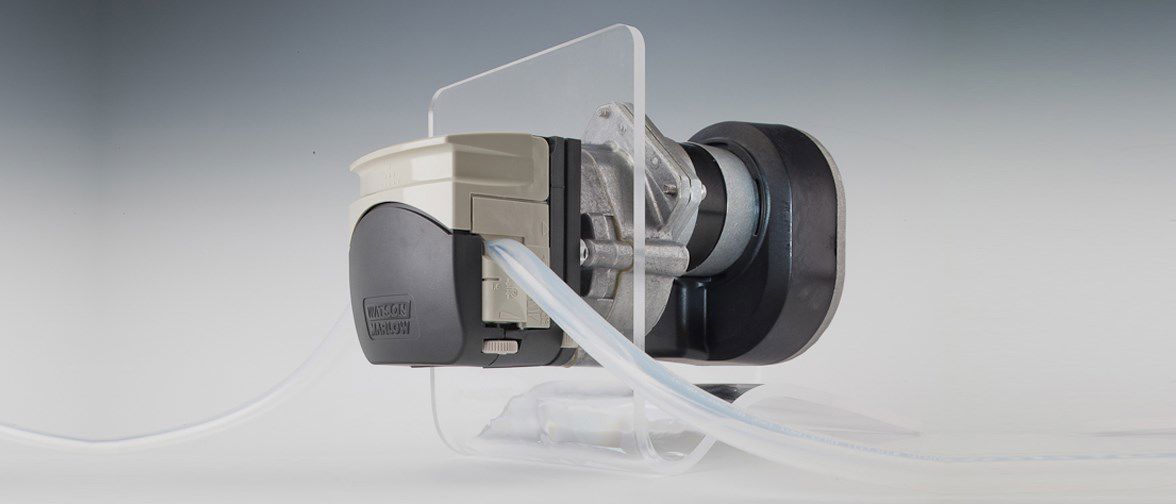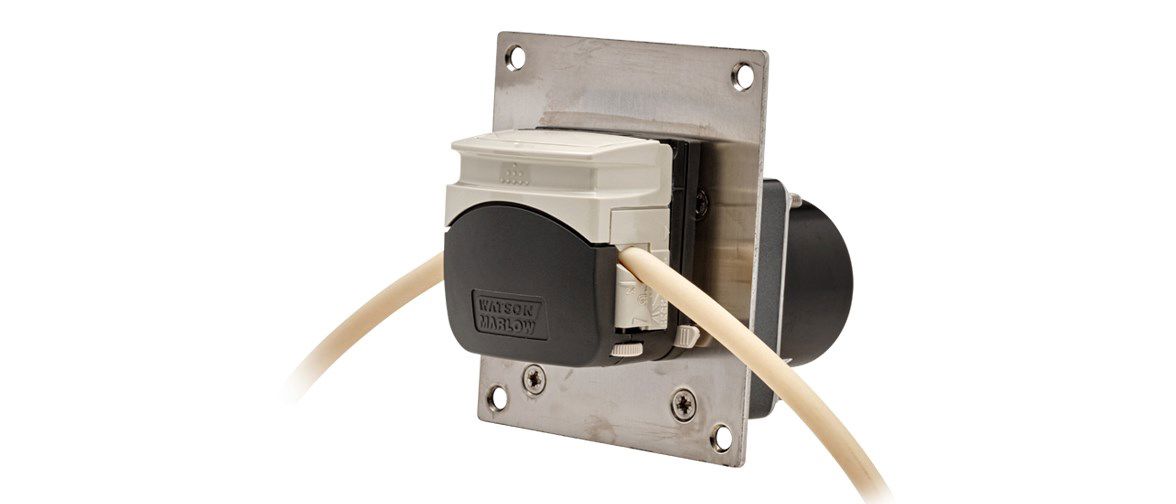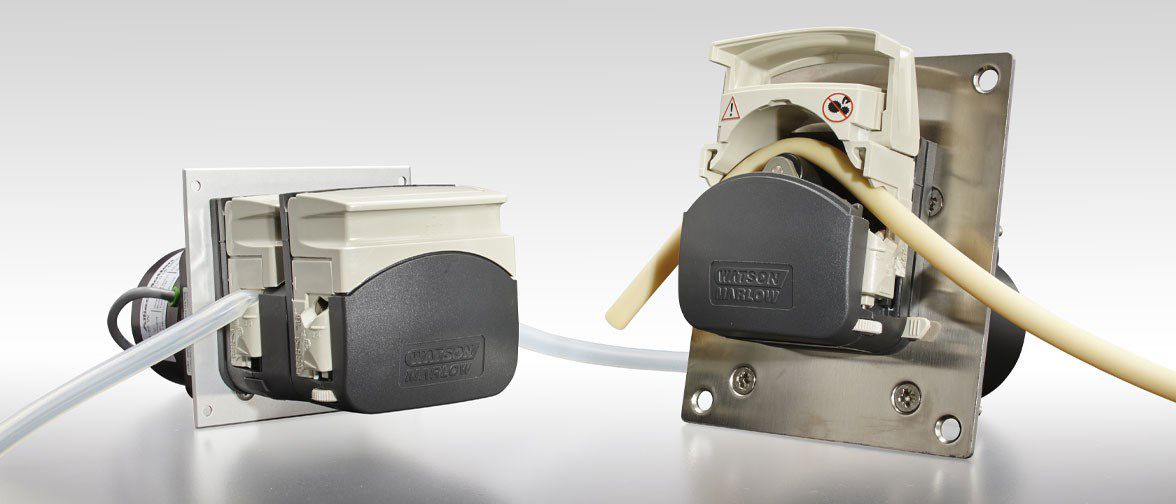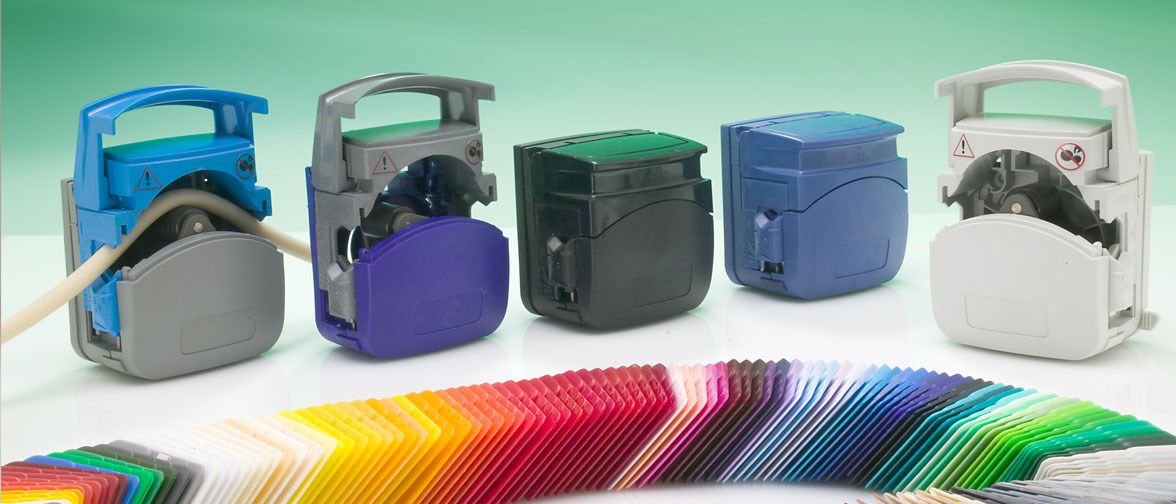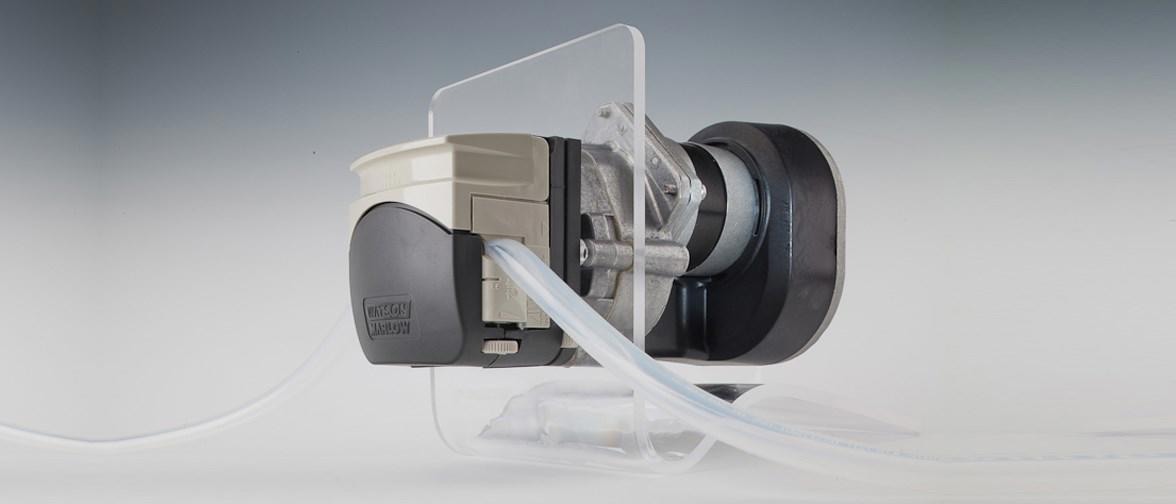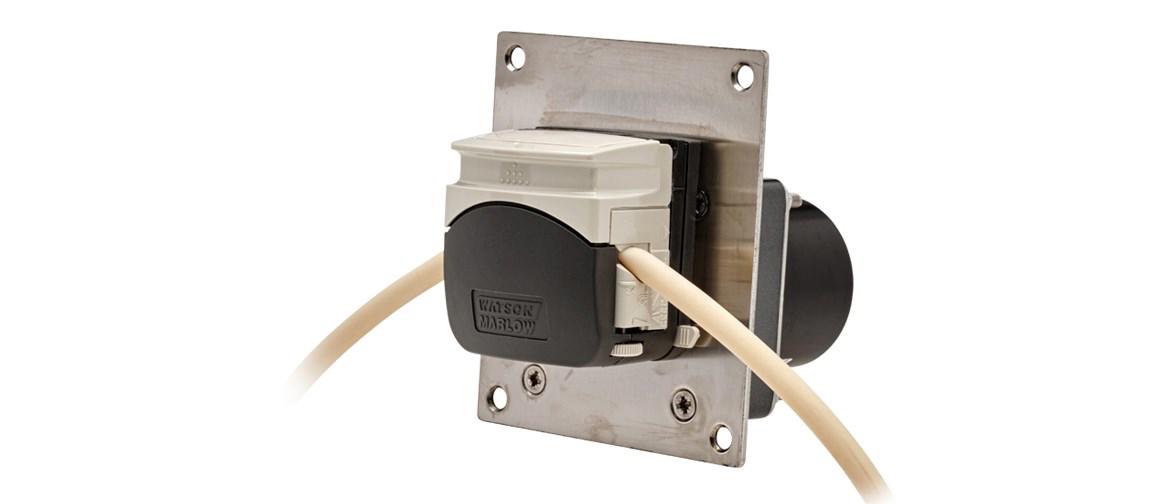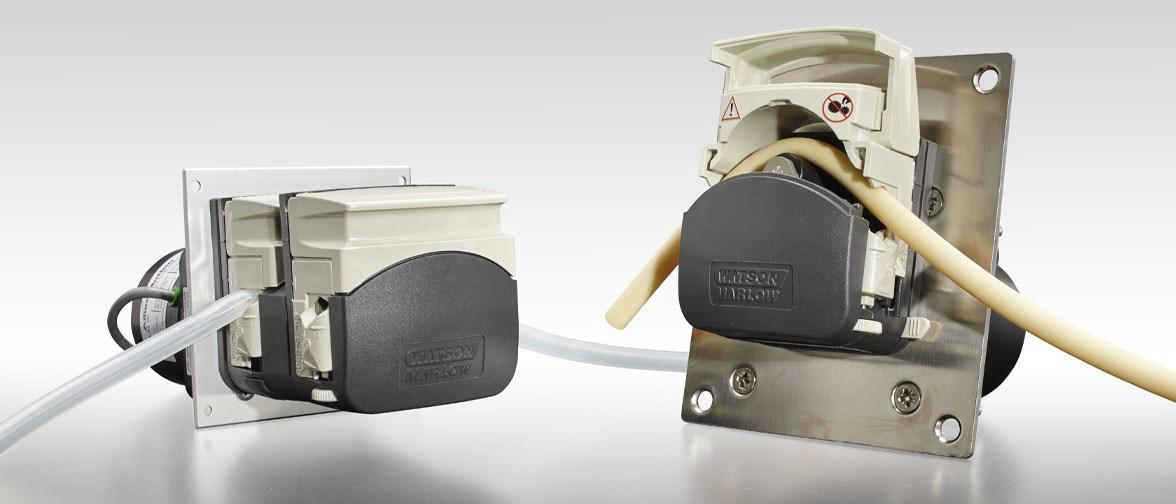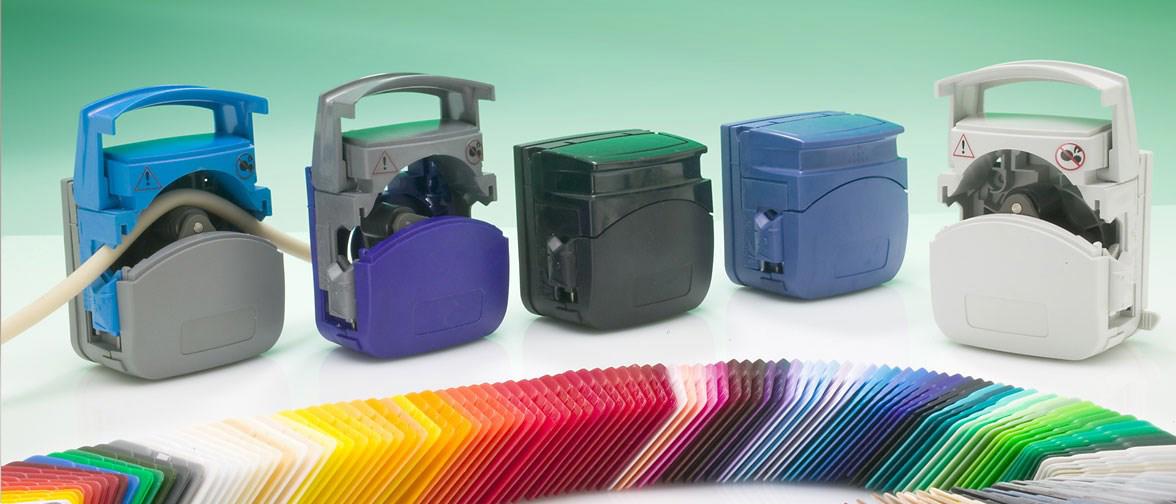 Overview
300 series medium-flow pumps
The 300 series combines performance, practicality and design. With its iconic flip-top design it is an industry standard OEM product in medical device, biotechnology and diagnostic applications, and very popular in many other applications too.
Pumpheads
Available as pumpheads only for customers wishing to specify their own motor/control. In three, four, six and eight roller versions. More rollers for greater accuracy and reduced pulsation. The three-roller 313 pumphead offers maximum flows. Great flexibility with nine tubing sizes in many different tubing materials. Providing flows to 2 L/min continuously or 3 L/min intermittently. Strong IXEF moulded pumpheads available in a range of colors.
Drives
300DriveSure: range of 24 V and 48 V brushless DC drives with integrated control, providing flows to 2,040 ml/min
300VDL: variable speed, brushless 24 V DC drive pumps with a maximum speed of 350 rpm and flow rates up to 1,750 ml/min
300FAM: heavy-duty induction drive pumps in two voltage ranges and four maximum speeds and flow rates up to 1,450 ml/min
300FDM: 12 V or 24 V induction drive pumps in four maximum speeds and flow rates up to 1,750 ml/min
300VBM: variable speed, rugged brushless DC drives and flow rates up to 1,750 ml/min
It's iconic flip-top design for fast and error-free tube loading makes it the most popular choice in many medical and upstream cell culture applications
Extension pumpheads can be added to provide up to six separate channels depending on drive torque
Three and four roller versions are most popular. Up to eight rollers is possible for lowest pulsation and greatest accuracy
Complete range of AC, DC and brushless DC drives
Option of integrated speed control by additional 0-4 V signal
Technical summary
| | |
| --- | --- |
| Motor types | DriveSure brushless DC motor, Fixed speed DC motor, Synchronous AC motor, Variable speed brushless DC motor |
| Pumphead options | 313D, 314D |
| Standards | BS EN 61010-1, CAN/CSA C22.2 No 61010-1, CE, IEC 61010-1, RoHS, UL 61010-1 |
Technical Summary table lists features available within the range. See 'Technical specifications' tab for model specific information.
Performance
Performance
DriveSure pumps
Flow rates (ml/min) Tubing 1.6mm wall
313D pumphead
314D pumphead
Speed (rpm)
Tube bore (mm)
8
408
8
408
0.5
0.24
12
0.24
12
0.8
0.56
29
0.48
24
1.6
2.20
112
2.00
102
3.2
8
408
6.80
350
4.8
18
900
15
780
6.4
29
1500
24
1224
8.0
75
2040
32
1632
Flow rates are for guidance only at 0 bar. Always test pumphead flow capability in the relevant fluid system
Flow rates (ml/min) Tubing 2.4mm wall
313D pumphead
314D pumphead
Speed (rpm)
Tube bore (mm)
8
408
8
408
0.5
0.24
12
0.24
12
0.8
0.56
29
0.48
24
1.6
2.20
112
2.00
102
3.2
8
408
6.80
350
4.8
18
900
15
780
6.4
29
1500
24
1224
Flow rates are for guidance only at 0 bar. Always test pumphead flow capability in the relevant fluid system
FAM, FDM, VBM and VDL pumps
313/314 FAM, FDM, VBM and VDL pumps — Flow rates (ml/min)
FAM 50Hz
FAM 60Hz
FDM 12/24VDC
VBM 24VDC
VDL 24VDC
Speed (rpm)
Tube bore (mm)
37
75
145
290
42
85
170
45
90
175
350
100
190
360
100
350
0.5
1.3
2.6
5.0
10
1.4
3.0
6.0
1.5
3.0
6.0
12
3.4
6.5
12
3.00
10.5
0.8
2.6
5.4
10
21
3.0
6.0
12
3.2
6.4
13
25
7.0
14
26
6.00
21.0
1.6
10
20
39
79
11
23
46
12
24
48
95
27
52
100
26.0
91.0
3.2
37
75
145
290
42
85
170
45
90
175
350
100
190
360
100
350
4.8
80
165
320
640
90
190
375
100
198
385
770
220
420
790
220
770
6.4
130
270
520
1045
150
305
610
160
325
630
1260
360
685
1296
360
1260
8.0
185
375
725
1450
210
425
850
225
450
875
1750
500
950
1800
500
1760
314 flowrates are approximately 85% of 313 flow rates
Marprene tubing 1.6mm wall, zero pressure and no suction lift
Nominal flow rates may vary +/-10%
Motor/Controller Connections
| Lead no. | Lead color | Function | Descriptions |
| --- | --- | --- | --- |
| 1 | brown | FW/RV | Direction control input High' CW, 'Low' CC (shaft side) |
| 2 | white | Vin | Input voltage (set-point) for speed loop. Resulting speed approx. 1000rpm/V Vin < 4V: motor at full speed, speed loop off (open loop) |
| 3 | green | FG | Frequency generator output, 36 ppr, Rout = 4kOhm (approx.) |
| 4 | black | GND | Motor return, ground (0v) |
| 5 | red | Vp | Motor supply voltage +24V (Min -14V Max 30V) |
| 6 | bare | shield | Shield for cable and connection to motor housing |
Specifications
Technical specifications
| | 300DS/D | 300VDL/D | 300VBM/D | 300FAM/D | 300FDM/D |
| --- | --- | --- | --- | --- | --- |
| Motor types | DriveSure brushless DC motor | Variable speed brushless DC motor | Variable speed brushless DC motor | Synchronous AC motor | Fixed speed DC motor |
| Pumphead options | 313D, 314D | 313D, 314D | 313D, 314D | 313D, 314D | 313D, 314D |
| Pumphead number of rollers | | 3, 4 | 3, 4 | 3, 4 | 3, 4 |
| Pumphead number of channels | | 1 | 1 | 1 | 1 |
| Min. operating speed | 8 rpm | | | | |
| Max. operating speed | 408 rpm | 480 rpm | 480 rpm | 290 rpm | 360 rpm |
| Supply voltage | 24V, 48V | 24VDC | 24VDC | 110-115VAC, 60Hz, 220-230VAC, 50Hz | 12VDC, 12VDC, 24VDC, 24VDC |
| Power consumption | | 35VA | | 20W - 40W | 30W |
| Min. operating temperature | 5 °C | | -10 °C | -10 °C | -10 °C |
| Min. operating temperature | 41 °F | | | | |
| Max. operating temperature | 40 °C | | 40 °C | 40 °C | 40 °C |
| Max. operating temperature | 104 °F | | | | |
| Weight | 2.557 - 3.704 lbs | | | | |
| Weight | 1.16 - 1.68 kg | 1 kg | | | |
| Ingress rating | IP30 | | IP41 | IP41 | IP41 |
| Standards | BS EN 61010-1, CAN/CSA C22.2 No 61010-1, CE, IEC 61010-1, RoHS, UL 61010-1 | | | | |
| Motor torque output | | 21 - 7.3 kgcm | | | |
| Compatible tubing bore size | 0.5, 0.8, 1.6, 3.2, 4.8, 6.4, 8 mm | 0.5, 0.8, 1.6, 3.2, 4.8, 6.4, 8 mm | 0.5, 0.8, 1.6, 3.2, 4.8, 6.4, 8 mm | 0.5, 0.8, 1.6, 3.2, 4.8, 6.4, 8 mm | 0.5, 0.8, 1.6, 3.2, 4.8, 6.4, 8 mm |
| Compatible tubing wall thickness | | 1.6 mm | 1.6 mm | 1.6 mm | 1.6 mm |
313 VDL dimensions
313/314 FAM, FDM and VBM dimensions
Literature
Order Information
Product codes
313/314 DS pumps
| Description | Motor control | Product code |
| --- | --- | --- |
| PMD24CV300 | 0 - 10 V | Contact your local Watson-Marlow representative |
| PMD24CI300 | 4 - 20 mA | Contact your local Watson-Marlow representative |
| PMD48CV300 | 0 - 10 V | Contact your local Watson-Marlow representative |
| PMD48CI300 | 4 - 20 mA | Contact your local Watson-Marlow representative |
For mounting plate options, test leads and further pumphead configurations, contact your local Watson-Marlow sales representative
313/314 FAM, FDM, VBM and VDL pumps
Description
Supply voltage
Speed (rpm)
Number of channels
Product code
313FAM/D
230VAC, 50Hz
37
6
040.AG23.010
115VAC, 60Hz
42
4
040.EH23.010
230VAC, 50Hz
75
4
040.AN23.010
115VAC, 60Hz
85
2
040.EP23.010
230VAC, 50Hz
145
2
040.AQ23.010
115VAC, 60Hz
170
1
040.ER23.010
230VAC, 50Hz
290
1
040.AU23.010
313FDM/D
12VDC
45
6
040.CH23.010
24VDC
45
6
040.DH23.010
12VDC
90
4
040.CP23.010
24VDC
90
4
040.DP23.010
12VDC
175
2
040.CR23.010
24VDC
175
2
040.DR23.010
12VDC
350
1
040.CV23.010
24VDC
350
1
040.DV23.010
313VBM/D
24VDC
100
3
040.NP23.010
24VDC
190
2
040.NS23.010
24VDC
360
1
040.NV23.010
313VDL/D
24VDC
100
040.NP10.3D0
24VDC
350
040.NU10.3D0
Silicone 8.0mm no backpressure
Marprene max 6.4mm no backpressure